Company profile
IDGC of Centre, PJSC (hereinafter, the Company) is a Russian power grid company that supplies electricity and connects new consumers to power grids. The Executive Body is located in Moscow. The Company's branches operate in the cities of Belgorod, Bryansk, Voronezh, Kursk, Kostroma, Lipetsk, Orel, Smolensk, Tambov, Tver, and Yaroslavl.
Among the Company's customers are large industrial companies, transport and agriculture enterprises, socially important facilities, as well as guaranteed electricity suppliers.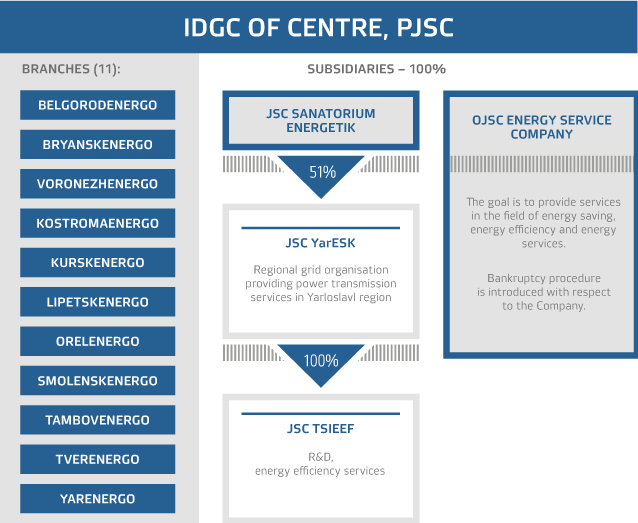 Structure of share capital as of May 20, 2015 (as of the most recent closing date of the share register)

Listing:
FIRST
(top)
list of Moscow Exchange
Shares:
42,217,941,468
Total amount of common registered shares with the par value of 10 kopecks each.
Credit ratings:
BB—/B/ruAA—
with Stable outlook
Standard&Poor's
AA
very high credit rating,
level 2
National rating agency
Stock exchange indices:
MICEX SC
MICEX index
MICEX PWR
Power utility index of MICEX
MOEX RCI
MOEX Regulated Company Index
Shares of IDGC of Centre are included in the calculation database of the Moscow Stock Exchange indices:
MICEX PWR (the weighting of the stock is 2.16%);
MICEX SC (the weighting of the stock is 2.02%);
MOEX RCI (the weighting of the stock is 1.66%).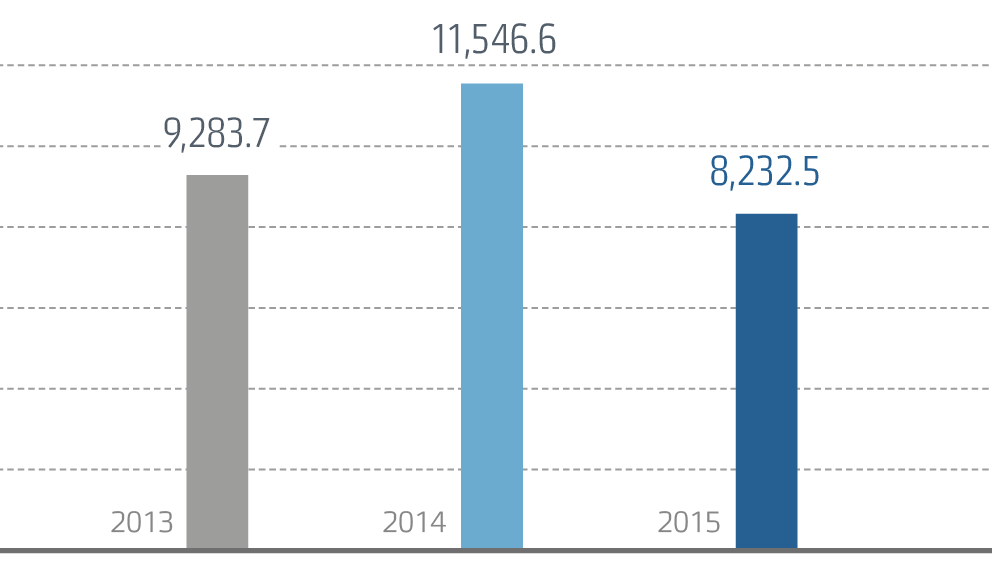 Events and news that influenced the IDGC of Centre's stock TRADING in 2015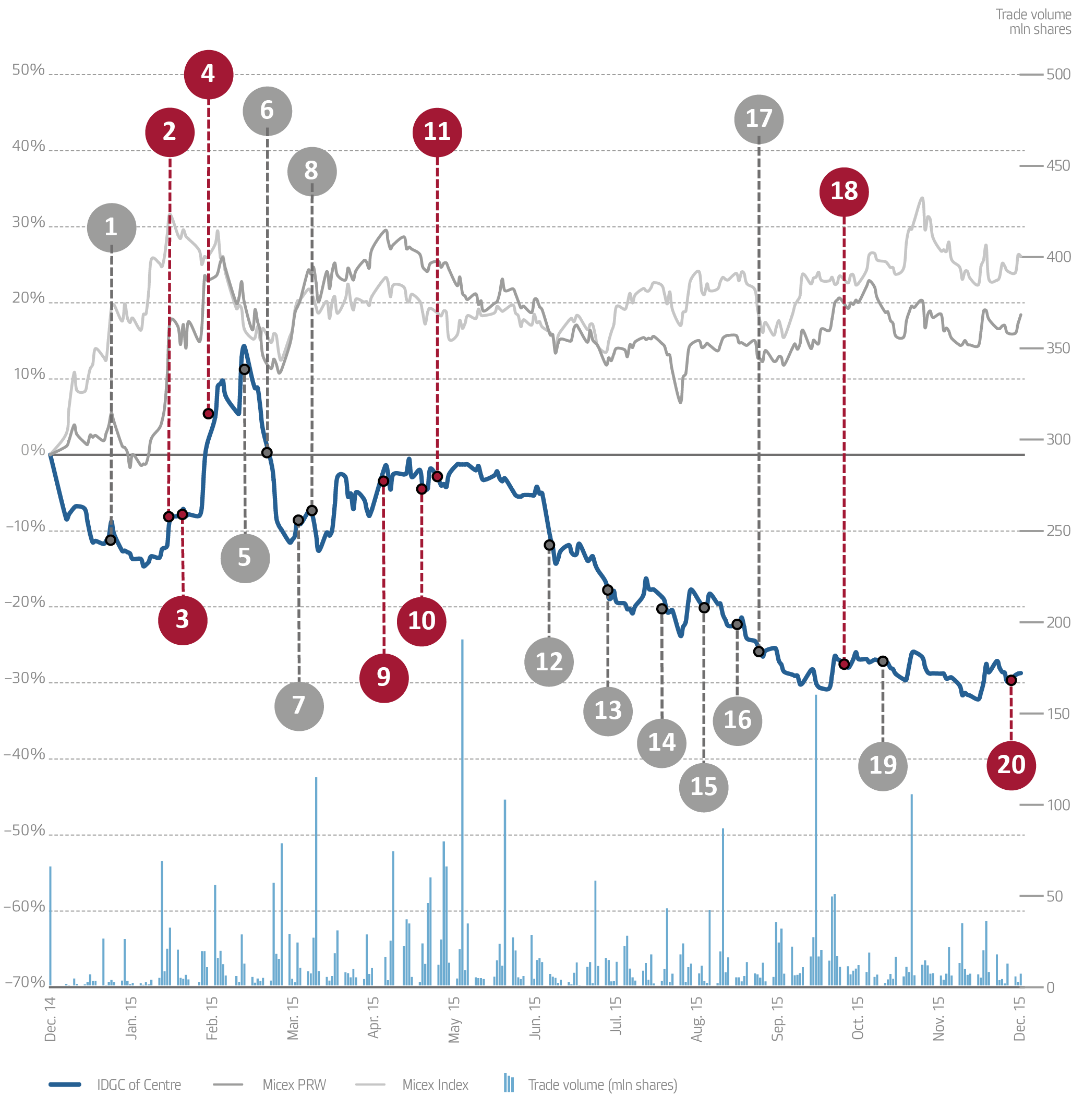 | | Events | Date | A source | Effect on the stock price movement |
| --- | --- | --- | --- | --- |
| 1 | The assistant to the President of the Russian Federation, A.Belousov, said the Russian authorities so far have not discussed the increase of tariffs on natural monopolies due to the growth of the inflation rate. | 21.01.2015 | External | Negative |
| 2 | According to the media, Rosseti may reduce the investment programme for 2015–2017by 30%. | 16.02.2015 | External | Positive |
| 3 | According to the media, the Russian Ministry of Energy proposed to re-distribute the population's payments to the generating companies in favour of grid companies. | 19.02.2015 | External | Positive |
| 4 | IDGC of Centre published its statements under RAS for 2014. | 03.03.2015 | Internal | Positive |
| 5 | The Board of Directors approved the revised the Investment Programme for 2015 and through 2016–2020. | 17.03.2015 | Internal | Negative |
| 6 | The newspaper Vedomosti reported that Rosseti prepared negative and optimistic development scenarios for the subsidiaries through 2015–2019and their proposals on improving the monopoly's financial sustainability. | 23.03.2015 | External | Negative |
| 7 | IDGC of Centre published its Business Plan for 2015. | 02.04.2015 | Internal | Negative |
| 8 | Rosimushchestvo (Russian Property Agency) reported that the discussion of the privatisation of Rosseti's subsidiaries was postponed. | 07.04.2015 | External | Negative |
| 9 | IDGC of Centre published its statements under RAS for the 1st quarter of 2015. | 06.05.2015 | Internal | Positive |
| 10 | The Board of Directors of IDGC of Centre approved and recommended the Company's Annual General Meeting of Shareholders to allocate RUB 831,693 thou. for the dividend payment. | 21.05.2015 | Internal | Positive |
| 11 | According to the media, the Russian Government is discussing a higher tariff growth for Rosseti for 2016. | 27.05.2015 | External | Positive |
| 12 | Closing the shareholder register for the dividend payment. | 07.07.2015 | External | Negative |
| 13 | IDGC of Centre published its statements under RAS for the 1st half of 2015. | 28.07.2015 | Internal | Negative |
| 14 | Renaissance Capital reduced its rating of IDGC of Centre's shares significantly by issuing the recommendation "To Sell". | 24.08.2015 | Internal | Negative |
| 15 | The head of the Federal Anti-Trust Service of Russia, I. Artemyev, said that the regulated tariffs shall not grow at a higher pace than the consumer's inflation rate. | 02.09.2015 | External | Negative |
| 16 | IDGC of Centre approved the revised Investment Programme for 2015. | 17.09.2015 | Internal | Negative |
| 17 | The Federal Anti-Trust Service of Russia proposes a lower tariff indexation rate. | 23.09.2015 | External | Negative |
| 18 | The Ministry of Energy of Russia proposes to reinforce the payment discipline for the sales companies. | 25.10.2015 | External | Positive |
| 19 | The Board of Directors of IDGC of Centre approved the revised Business Plan of the Company for 2015, including the Investment Programme. | 13.11.2015 | Internal | Negative |
| 20 | The Board of Directors approved the Company's Business Plan for 2016, including the Investment Programme. | 28.12.2015 | Internal | Positive |